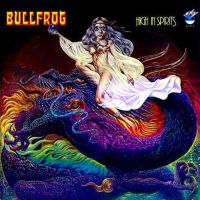 One of the most prolific countries to produce rock in the early 70's was Germany. While much of the music was an experimental blend of psychedelia and classical music ('krautrock') there are many lost hard psychedelic and progressive hard rock bands to discover (eg: Out Of Focus, Haze, Eloy)
Bullfrog were born in Munich in 1973. They produced 2 albums and highlight is the second, "High in Spirit" ('77) bringing them a sizeable following both in Germany and in the US.
It also gathered quite a huge fan base in Portugal, of all places where the album actually managed to relegate both ABBA and PINK FLOYD to second and third place on the local charts.
Encouraged by the warm reception, they toured a great deal and finally released a third LP in 1980, "Second Wind", their most accomplished work to date. They were gathering material for a fourth when dissension grew amongst the ranks and brought an end to their reunion.
Highly recommended
Buy
here