Johnny is probably most famous for his seminal blues album "Gangster of Love" (w/ track of same name) recorded way back in 1953 but he has many more claims to fame

1.
One of the inspirations for Jimi Hendrix's stage show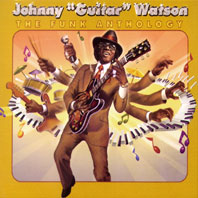 "I used to play the guitar standing on my hands. I had a 150-foot cord and I could get on top of the auditorium - those things Jimi Hendrix was doing, I started that shit."
2.
The man who inspired Frank Zappa to play guitar
Watson returned the favor, contributing to Zappa's albums One Size Fits All (1975), Them or Us (1984), Thing-Fish (1984) and Frank Zappa Meets the Mothers of Prevention (1985).
3.
"The Godfather of Funk"
His albums Ain't That a Bitch and Real Mother For Ya were a brilliant combination of blues and '70s funk.
4.
As Precursor to Hip-Hop
"Telephone Bill" with it's fast lyrics and beat is said to have foreshadowed hip hop
5
. As a One-Time Pimp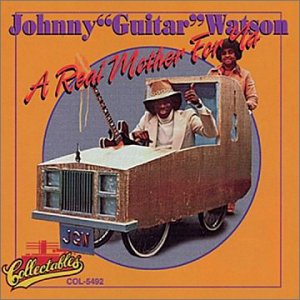 Peter Guralnick in Dream Boogie: The Triumph of Sam Cooke (2005), claims that Watson was an actual pimp. Watson claimed to feel "ambivalent" about prostituting women, even though it "paid better" than music
6.
As Rap's Favourite Bluesman
Ice Cube, Eazy-E, Snoop Dogg, Dr. Dre, Jay-Z, and Mary J. Blige; they have all sampled Johnny's groves ( he also invented Snoop Dogg's "Bow Wow Wow yippi-yo yippi-yay"
Top Five Tracks
1. Gangster of Love
2. I Want to Ta-Ta You Baby
3. Aint That a Bitch
4. Superman Lover
5. Everyday I have the Blues
Image Courtesy Keen