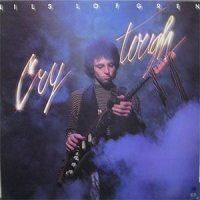 Nils Lofgren is most famous as a member of Bruce Springsteen's band but he has many more strings to his bow
He actually joined Neil Young's band at the tender age of 17, assiting on After the Gold Rush
"1970 was a very magical year in my life. During the making of the "After the Gold Rush" album in Topanga Canyon, California with Neil Young and our producer and "brother in arms" David Briggs, I did my first real acoustic guitar and piano session work. Neil lent me his cool Martin D-18 (which appears on the inside photo of the "Gold Rush" album leaning against the wall next to him) to play on the record. Near the end of the sessions, Neil gave me this now historic guitar as a gift for my contribution and commitment to this landmark recording. It remains a treasured guitar, which I continue to play and cherish to this day."
He then went on to form his own band, Grin (1971-74) and has released over 30 solo albums since then (1976's Cry Tough is fantastic).
On June 9, 2008, he will release a new album The Loner (Nils Sings Neil), consisting entirely of his take on Neil Young songs
"We were all surprised how quickly I was able to embrace the project, which is a testament to Neil's magnificent songwriting. My precious wife Amy offered constructive and valuable advice and inspiration regarding song selection and encouraged truer versions of a number of songs. These intimate performances were recorded in our home, along with 3 dogs, 2 cats, our teenager, family & friends visiting, and a world tour to get prepared for. It required a huge amount of love, support and quiet! "
Tracklist
1. Birds 2. Long May You Run 3. Flying On the Ground 4. I Am a Child 5. Only Love Can Break Your Heart 6. Harvest Moon 7. Like a Hurricane 8. The Loner 9. Don't Be Denied 10. World On a String 11. Mr. Soul 12. Winterlong 13. On the Way Home 14. Wonderin' 15. Don't Cry No Tears(Hypertension distributed by Proper)
Pre-order
Spin Cd's
Image: A&M/Reprise