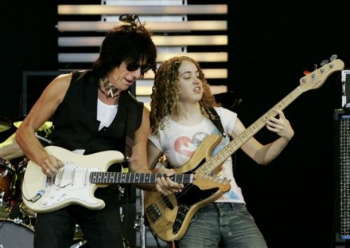 Wow what a story, picks up the bass at 14 years old, drops out of High School at 16 and immigrates from Australia to the US to pursue her music career, makes her name is New York clubs and then becomes one of the most celebrated new bass players on the planet.

Don't believe me ? Here's what she has done since 2006
Played with the Allman Brothers, toured with Chick Corea and Jeff Beck, attended Eric Clapton's Crossroad Guitar Festival and joined Jeff Beck and Eric Clapton and the famous Ronnie Scott's in London. All that and released a brilliant Fusion album called Transformations
Check her out

With Jeff Beck, the beauty and the beast !! Makes me cry !!
Here she is teaching at a Bass Clinic, wow !!
With Chick Corea