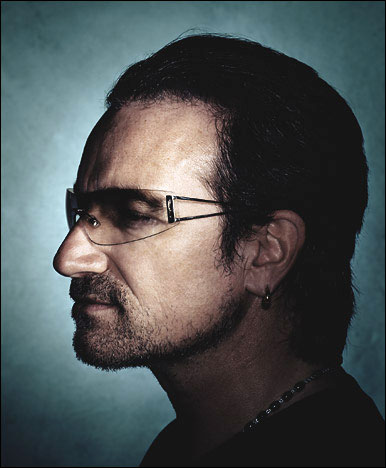 U2 singer, Bono Vox, possibly the most (self)-important man in rock has been awarded with the 'Man of Peace' prize by the Nobel peace laureates for helping to tackle African debt, poverty and disease.
Paris Mayor Bertrand Delanoe hosted the award ceremony in the city on Friday (12Dec08), honouring the U2 frontman for his global campaign to persuade rich nations to lend assistance to the struggling continent.
Bono told the crowd, which included fellow Nobel laureates,
"This is a very big award for me, because let's be honest this is as close as I am going to get - as close as a rock star is ever going to get to the Nobel Peace Prize."I am an over-awarded, over-rewarded rock star. You are the people who do the real work."So I am very, very pleased to be in such esteemed company."
Italian co-host Walter Veltroni, added,
"We decided to nominate a man who has given a lot and will continue to give a great deal to the struggle for human rights, to the fight against poverty, with his music and with his words."He has put pressure on the world's governments to reach the UN's Millennium Goals. To give him the prize, is to say that fight will carry on."
Source: contactmusic