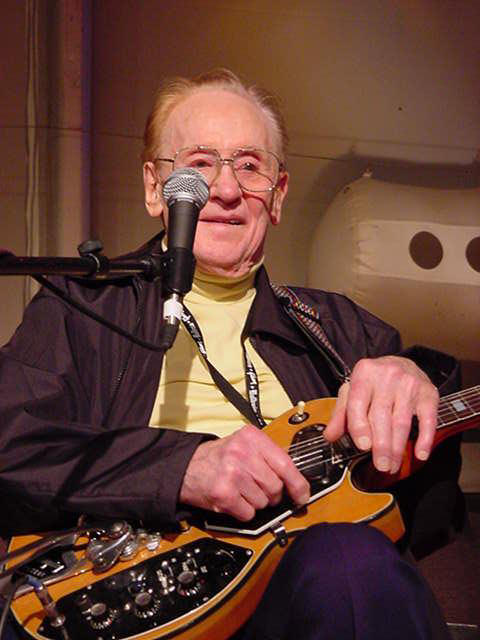 Say the name Les Paul and guitar players everywhere salivate. Not only is he widely regarded as the inventor of the solid body electric guitar, "Red Hot Red" also is responsible for many recording innovations including overdubbing, delay effects such as "sound on sound" and tape delay, phasing effects and multi-track recording. He also developed the echo chamber at the legendary Capitol Records studios.
Even at the age of 93, Les Paul continues to perform live every Monday night in Manhattan; a gig he's been playing for decades. His fluid playing and genre-busting guitar technique have been studied and copied by almost anyone that picks up an axe.
Although tributes have appeared before, never have they been presented like this. Children Of The Future- A Tribute To A Legend features many musicians paying homage to the master. Tributes are performed by such notables as Slash, Joe Bonamassa, Peter Frampton, Joe Perry, Richie Sambora, Hiram Bullock, Joan Osborne, Mick Hucknell from Simply Red, Edgar Winter, Johnny Rzeznik from the Goo Goo Dolls, Lisa Fischer, and many others.
1 I Don't Wanna Be With Nobody But You
2 Good Luck You're Having
3 Walls Came Tumbling Down
4 Vocalise
5 All I Want Is You
6 Dying To Live
7 69 Freedom Special
8 I Love You More Than You'll Ever Know
9 Slipping Into Darkness
10 Children Of The Future
11 How Long
12 I Saw The Light
13 Great Hall Of Fame