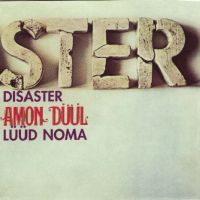 Experimental music pioneers Amon Duul 2, whose music defined the German progressive rock scene of the 1970's, are back in the news with the reissuing of the band's back catalog on SPV Records - many titles have been long out of print.
"All the important works of Amon Duul 2 are remastered and wherever there was spare room on the CDs, we added bonus tracks recorded in 2005, 2006 and 2007", says guitarist and original band member John Weinzierl.
Titles re-issued include 'Dance Of The Lemmings', 'Yeti', 'Carnival In Babylon', 'Wolf City', 'Vive Le Trance', 'Hi-Jack', 'Live In London', 'Made In Germany', and 'PyragonyX'. As a point of special interest to Amon Duul 2 fans in the USA, the band's landmark concept album Made In Gemany, touted as the first German Rock Opera, is now made available in its original complete form (the DBL LP was only released in the US as a single album with different cover art).
Formed in Munich in 1968, Amon Duul 2 rapidly excelled to the forefront of German avant garde music along side notable peers Can, Faust and Tangerine Dream. Amon Duul 2 quickly distinguished themselves from these other ensembles with their use of pop elements interspersed with eclectic songwriting and arrangements along with deft musicianship and the sweet voice of female vocalist Renate Knaup-Krotenschwanz.
The band's influences ranged from jazz and classical to Zappa and Syd's Pink Floyd, although the music has remained so original these past 30 years it's difficult to tell who the band's influences are! "That's because Germany culture-wise has no rhythm and blues influence," explains Renate. "We have classical music and traditional music, so we just experimented with what we had. To copy rhythm and blues or rock and roll would be silly because they are not our roots."
By 1979 and many critically acclaimed, pioneering LPs later, Amon Duul 2 went their separate ways, only to reunite in the 1990s, and most recently in the mid-2000s. The current line-up includes original members: Chris Karrer (guitar, violin, vocals), John Weinzierl (guitars, synth, vocals), Renate Knaup-Krotenschwanz (vocals), Danny Fichelscher (drums), Lother Meid (bass, vocals) and neo-Duul Jan Kahlert (percussion, vocals).
With the re-issuing of Amon Duul 2's back catalog, the band are preparing for a major tour scheduled for Autumn 2008 and Spring 2009, with the running title '40 Years since
1968/69'.
Other plans include "a DVD called Amon Duul 2 History and a new studio CD by the band. "Both will take a bit of time still," says John. "Maybe there's gonna be another DVD Live At The Buttermaker in Shrewsburry 2006 in the meantime." These new releases, along with rare solo CDs by Weinzierl's trio JHM along with an album he did with the late Robert Calvert of Hawkwind will be available on the band's official website.
SOURCE: Glass Onyon PR - William James