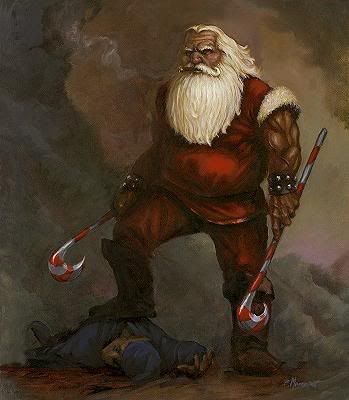 I know it's early but get ready for the heaviest Christmas album that has ever been released on planet earth
"We Wish You A Metal Christmas and a Headbanging New Year" features never before heard combinations of everybody who is anybody in metal, including Alice Cooper, Lemmy Kilmister, Ronnie James Dio, Dave Grohl, Billy Gibbons, Tony Iommi.
Check out the line-ups below; it makes you wish they had done a straight-up metal album rather than a Christmas one, but what the heck, these line-up's would sound good doing Abba covers ! Oh, yeah, thats been done already.....
It's all due to be released in the U.S. on October 14 via Amoury Records and Black Ion Music.
Tracks
01. We Wish You A Merry Xmas
Jeff Scott Soto (TALISMAN, YNGWIE MALMSTEEN, JOURNEY)
Bruce Kulick (KISS, UNION)
Bob Kulick
Chris Wyse (THE CULT)
Ray Luzier (KORN, DAVID LEE ROTH, ARMY OF ANYONE)
02. Santa Claus Is Coming To Town
Alice Cooper
John 5 (ROB ZOMBIE, MARILYN MANSON)
Billy Sheehan (DAVID LEE ROTH, TALAS, MR. BIG)
Vinny Appice (DIO, HEAVEN AND HELL, BLACK SABBATH)
03. Run Rudolph Run
Lemmy Kilmister (MOTÖRHEAD)
Billy F. Gibbons (ZZ TOP)
Dave Grohl (FOO FIGHTERS)
04. God Rest Ye Merry Gentlemen
Ronnie James Dio (DIO, HEAVEN AND HELL, BLACK SABBATH)
Tony Iommi (HEAVEN AND HELL, BLACK SABBATH)
Rudy Sarzo (QUIET RIOT, WHITESNAKE, DIO)
Simon Wright (AC/DC, DIO)
05. Little Drummer Boy
Doug Pinnick (KING's X)
George Lynch (DOKKEN)
Billy Sheehan (DAVID LEE ROTH, TALAS, MR. BIG)
Simon Phillips (THE WHO, TOTO)
06. Santa Claus Is Back In Town
Tim "Ripper" Owens (YNGWIE MALMSTEEN, JUDAS PRIEST, ICED EARTH)
Steve Morse (DEEP PURPLE)
Juan Garcia (AGENT STEEL)
Marco Mendoza (WHITESNAKE, TED NUGENT)
Vinny Appice (DIO, HEAVEN AND HELL, BLACK SABBATH)
07. Silent Night
Chuck Billy (TESTAMENT)
Scott Ian (ANTHRAX)
Jon Donais (SHADOWS FALL)
Chris Wyse (THE CULT)
John Tempesta (ROB ZOMBIE, THE CULT)
08. Silver Bells
Geoff Tate (QUEENSRŸCHE)
Carlos Cavazo (QUIET RIOT, RATT)
James Lomenzo (MEGADETH, WHITE LION)
Ray Luzier (KORN, DAVID LEE ROTH, ARMY OF ANYONE)
09. Deck the Halls
Oni Logan (LYNCH MOB)
Craig Goldy (DIO)
Tony Franklin (THE FIRM)
John Tempesta (ROB ZOMBIE, THE CULT)
10. Grandma Got Ran Over By a Reindeer
Stephen Pearcy (RATT)
Tracii Guns (L.A. GUNS, BRIDES OF DESTRUCTION)
Bob Kulick
Billy Sheehan (DAVID LEE ROTH, TALAS, MR. BIG)
Greg Bissonette (DAVID LEE ROTH)
11. Rockin' Around the Xmas Tree
Joe Lynn Turner (RAINBOW, DEEP PURPLE)
Bruce Kulick (KISS, UNION)
Bob Kulick
Rudy Sarzo (QUIET RIOT, WHITESNAKE, DIO)
Simon Wright AC/DC, DIO)
12. Happy Xmas (War Is Over)
Tommy Shaw (STYX)
Steve Lukather (TOTO)
Marco Mendoza (WHITESNAKE, TED NUGENT)
Kenny Aronoff (TONY IOMMI, SMASHING PUMPKINS)