Do not underestimate bluegrass ! It served as one of the most critical influences on the birth of rock, the fast-paced guitar picking arguably serving as the birth place of the electric guitar jam (Jerry Garcia first learned his art with bluegrass)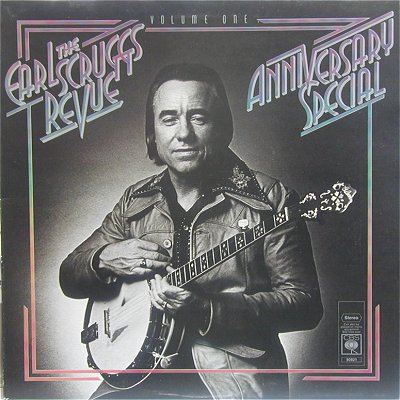 Earl Scruggs, born 6 January 1924, is one of it's masters. He learned to play banjo from the age of five, and in 1944 joined Bill Monroe's Bluegrass Boys, where he perfected his threefinger banjo technique. He later left with fellow member Lester Flatt to form the Foggy Mountain Boys in 1948. They enjoyed a long career spanning 20 years, and became synonymous with their recordings of 'Foggy Mountain Breakdown' (used in the film Bonnie And Clyde) and 'The Ballad Of Jed Clampett', which was the theme tune for the tv series The Beverly Hillbillies.
In 1969, after Flatt and Scruggs parted company, the Earl Scruggs Revue was formed featuring Earl (banjo, vocals) and his sons – Randy (lead guitar, slide guitar, bass, vocals), Gary (bass, harmonica, vocals), Steve (guitar) – plus Josh Graves (dobro, guitar, vocals) and Jody Maphis (drums, vocals).
The Earl Scruggs Review - Anniversary Special – Volume One/Volume Two was originally released in 1975 and 1976 on the CBS record label.
Everybody who is anybody is guesting; as well as Earl and the boys, musicians include Roger McGuinn, Billy Joel, Johnny Cash, Leonard Cohen, Joan Baez, Dan Fogelberg, Jim Messina, Kenny Loggins and countless others.
It was produced by Bob 'Highway 61 Revisited' Johnston, who has worked with Elvis, Dylan and Simon & Garfunkel on the majority of their landmark recordings.
Pre-order at
spincds